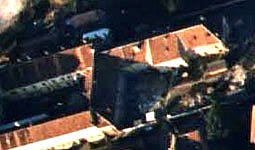 The palace is situated nearby the Bathyaneum Library. It belonged to the prince Apor, and had been built in the second half of the 17th century.
At the beginning of the 18th century it was the residence of the Austrian army leader, prince Steinville.
In the same historically period, the building had been added some excellent interior baroque decorated portals.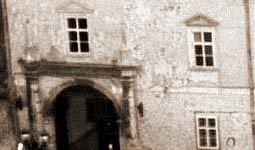 The Roman Catholic Bishop is situated in the South west of the fortress and in 17th -19th centuries. It was been constantly modified during ages. The building was a harmonious dovetailing of late Renaissance and baroque elements, remarkable sobriety. Roman Camp and the Old Fortress, an important archeological site, the center where the 13th Legion Gemina (106-275) had established, has been fitted and used during Middle age as a feudal fortress known under the name of Balgrad. Part of its walls had preserved until the 18th cent.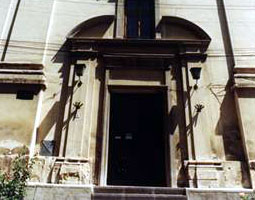 The Bathyaneum library is a late church, built in baroque style. In 1780, Ignatiu Bathyany, bishop of Transylvania and a passionate bibliophile, transform the inside of the establishment to fit it for the present use, that of library.
It is famous all over the world for its ample series of manuscripts, incunabula and rare books, such as Codex Aureus (9th century), also known as the Lorsch Gospel, containing Marcu and Matei Gospel, Davidís Psalter, Codex Burgundus (15th century), Biblia Sacra (13th century) the Pentateuch from Orastie (1850), Serba Cantacuzino`s Bible, the New testament from Balgrad (1648).
The first astronomical observatory was founded here in 1792.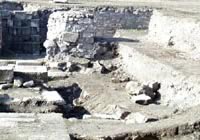 The Roman Camp
The Roman Camp and the Old Fortress is an important archeological site.
The 13th Legion, Gemina billeted here, in (106-275). It was adjusted and used as a feudal fortress, During Middle Age also known as Balgrad. The walls had been preserved until the 18th century.
Princely Palace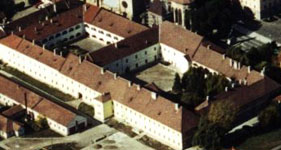 The building used to be Michael the Braveís residence during the first political unification of the Romanians; the Ottoman and Tatar invasions destroyed it. The foreign chronicles picture it was an extremely luxurious building, richly adorned, with frescos, marble stairs. The building was placed next to two guard ranges. Right after Hungary had been conquered by the Ottoman Empire, it became residence for Ioan Zapolya`s wife Isabella. There had been made some adornment improvements during the rule of princes Gabriel Bethlehem and Gheorghe Racozzi the 2-nd. Since 1700 the building changed its destination and was used as a barracks, and therefore, the inside was adapted. The notifications led to the destruction or covering of some important statue groups representing scenes from The Bible.