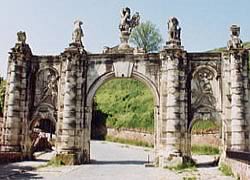 It is situated at the base of the fortress and has been built out of stones carved like a three gates triumphal arch.
The gate has the Austrian blazon ( the two headed eagle, the sward and the scepter) in the middle, between the statues of the god Mars and the statues of the goddess Venus.
The inside is carved with antique mythology bas-relief, representing legendary hero Hercules fighting Nemeea lion and Perseus holding Medusa's cut head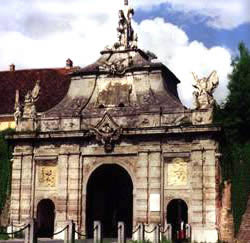 After the second gate, out of which only the lateral pylons are preserved, next follows the most important and most grandiose of the gates, the third gate.
It actually represents the entrance to the fortress.
It is situated on the curtain, half way between the St. Eugene bulwark and St. Capistrano one.4 pillars and 8 pilasters hold the archway and the vault of the three gates. Richly adorned, it is considered representative for Transylvanian baroque sculpture.
The front stands out for the Carol the sixth's equestrian statue. Two ottoman prisoners, terrified under the hoofs of the victorious emperor's horse, are sculptured on the pedestals of the statue.
The Austrian blazon with the two-headed eagle, with Transylvanian blazon on its chest is carved on cornice.
The bas-relief on the left side represents the allegory of the glorious general receiving Alba Iulia`s scale model after his brave victory over the ottomans. Inside the pedestal of Carol's statue there is a small room that, in 1785, January 2, had served as cell for Horea the main leader of the great serves revolt from 1784-1785.
In 1937, a stone plaque with the carving: "This where he had suffered with bravery, determination and trusting the future of Romanian people 27th of December 1784 - 28 of February 1785".
On the side there are four statues, symbolizing the great virtues temperance, wisdom, welfare and force.
The Fourth Gate, also in baroque style is situated next to the two cathedrals. It is one of the entrances to the Roman Plateau. The building is the common one, and was probably used as shelter for the guards; it also contains a semi cylindrical vault on two Atlantis, resembling the one at the Third Gate; the elementary Austrian blazon; bas-reliefs of trophies, canons and Carol the sixth's flags.